PROFORMA TEAM MEMBERS COMPLETE ACTS OF SERVICE TO HONOR DR. KING'S LEGACY
Proforma Celebrates a "Day On" for Martin Luther King Day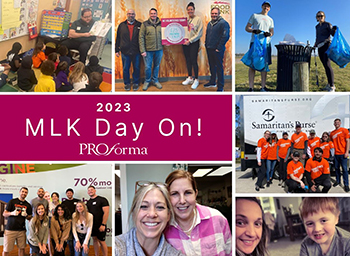 Proforma Celebrates a "Day On" for Martin Luther King Day
Proforma, the $600 million technology and business success leader, celebrated a "Day On" for Martin Luther King Day through individual acts of service. Over the past month, Proforma offered all of its employees a floating holiday in honor of Martin Luther King Day for the performance of a service and Proforma's team members stepped up through a multitude of community and charitable acts.
"In 1994, Congress designated Martin Luther King Day as a National Day of Service, a "Day On," not a day off. It has been 60 years since Dr. King Jr. gave his historical "I Have a Dream" speech, and we at Proforma believe that it is the duty of all Americans to continue in the fight of seeing that dream become a reality," said Vera Muzzillo, Proforma's CEO. "We recognize, applaud, and honor the ideology and bravery Dr. King exemplified in his attempt to unite us in the fight against inequality and the vision of living a life of service to one another."
To honor Dr. King's legacy, Proforma's support center team members individually identified the service that each believed exemplified Dr. King's legacy and submitted pictures from these charitable events. These acts of service included: riding for veterans, donating time at a local food bank, reading to students at neighboring schools, participating in the clean-up and beautification of Tampa Bay, and supporting efforts for international relief for the citizens of Ukraine, earthquake victims and refugees of Turkey and Syria, and many others.
"While we celebrate his extraordinary, enduring legacy and the tremendous progress that has been achieved over the years, we acknowledge there is so much work yet to be done," added Kathy Mayo, Proforma's Director of Human Resources. "As Dr. King so eloquently stated, "Life's most persistent and urgent question is "What are you doing for others?"