PROFORMA GIVES BACK TO TAMPA BAY'S AT-RISK CHILDREN
Proforma and its employees support kids in need through local nonprofit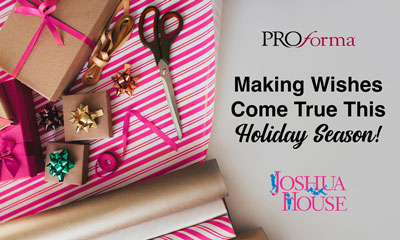 Making the Holidays Happen
Proforma, the $500 million Technology and Business Success leader, partnered with Joshua House to support the children of our local community. The company and its employees came together this month to gift children in need items from their wish lists as curated by the nonprofit.
Joshua House is a therapeutic residential shelter for abused, abandoned, and neglected children. This safe haven has supported thousands of children since the day the doors were opened. The foundation raises resources, develops solutions, and creates an enriching environment where children with complex traumas can heal, recover, and find stability.
"Proforma has come through again for the second year in a row," said Joshua House Resource Manager, Nanci March. "They are making Christmas happen for the many foster children in the community and I know there will be smiles Christmas morning because of them."
Proforma and its employees identify organizations to partner with each year during the holiday season. Prior partnerships involved the Buster Brown Foundation, the Angel's Place Foundation, and the Christ Child House along with local shelters for battered women and children.
"The holidays are a time for reflection and gratitude," added Kathy Mayo, Director of HR. "Proforma is committed to giving back to the community and making a positive difference whenever possible. Joshua House protects our city's most vulnerable citizens and children, and we are proud to be a part of that."