PROFORMA OWNER WINS WOMEN IN BUSINESS AWARD
Suzette Albrecht takes home the Bronze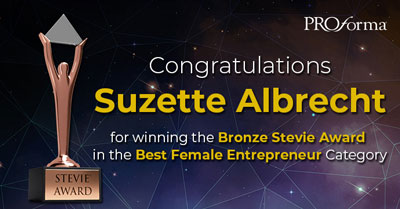 Suzette Albrecht wins the Bronze Stevie Award
Proforma, the $500 million technology and business success leader, celebrates Suzette Albrecht, President and Co-Owner of Proforma Albrecht & Co who was named a Bronze award winner in the Best Female Entrepreneur category at the 19th annual Stevie® Awards for Women in Business. The Stevie Awards for Women in Business is an international competition that honors women executives, entrepreneurs, employees, and the companies they run and has been hailed as the world's premier business award.
In August of 2000, Suzette and her husband joined the Proforma Network. Under Albrecht's leadership, the company has grown to over $43 million in annual sales and provided customers with creative, full-service marketing solutions. Out of a network of more than 500 distributor owners, Albrecht & Co. has been Proforma's top annual producer since 2006. Albrecht & Co. is a member of Proforma's Multi-Million Dollar Club and has been enshrined in Proforma's Hall of Fame.
"I am humbled to be in the company of so many amazing women who are making an impact in business and their communities." said Suzette Albrecht. "Most importantly, I want to thank Proforma, my incredible business partner Fred Albrecht, our amazing sales team, and dedicated employees for helping me build one of the top female owned companies in the promotional products industry."
Over the last 22 years, Proforma Albrecht & Co. has been recognized with numerous accolades. Her business has consistently placed on the Inc. 5000 list of fastest-growing companies. It has also been featured in the Advertising Specialty Institute's Counselor magazine for 'Best Places to Work' (10 years in a row) and Promotional Products Business' Greatest Companies to Work For.
"Suzette Albrecht constantly pushes herself, her company, and the Proforma name to new levels of triumph," said Vera Muzzillo, CEO of Proforma. "Her business is a rarity in the promotional products space, and her company is consistently finding ways to improve and stay at the top of the industry. The recognition she is receiving is well deserved."