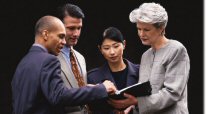 Proforma, the industry's leading source for print and electronic communications services, offers comprehensive and creative solutions for cost-effective, high-impact communications delivery. Our print and mail Total Project Management (TPM) solutions are keenly focused on helping organizations - large and small - improve productivity, reduce costs and increase the value of shared information and communications.
From project design, planning, print management and distribution, to response analysis, data management and quality assurance, Proforma Solutions simplifies the print and mail process and enhances the results.
Proforma's full range of services include project planning and administration, graphic design, electronic pre-press, print production, inventory management, distribution, order fulfillment, mailing services and many innovative e-solutions to fit every need.
Consultation and Planning: Complete assessment of current business communications needs and anticipated needs, which includes the establishment of project goals, parameters and objectives, and the development of creative solutions.
Data Processing: Technical support to help you manage and manipulate your data, including the most qualified personnel, systems and software.
Prepress, Lettershop, Kit Assembly, Mailing: Variable imaging, selectable inserting, unique messaging capabilities allow full personalization and 1:1 marketing.
Distribution Services: Paper or electronic, broadcast faxes, targeted e-mails or web statement presentment, pick-and-pack options as well as warehousing… whatever the need, Proforma Solutions has the experience to deliver your project.
Quality Assurance: Through the use of proven procedures, systems and software, Proforma Solutions' Total Project Management approach ensures your projects' success every step of the way.